Spend a night outside – Riuttaskorpi recreational forest
Autumn had arrived to Finland with it's colorful touch. It was time to get together and spend a night outside.
Suomen Latu Ry (a Finnish outdoor association) has decided a date for Finns to spend a night outside. The 17th of September is the day that thousands of Finns will be heading to the forests every year for an overnighter, or they will camp on their own backyard etc.
So I asked if someone from our Finnish hammock group wished to get together and go hanging somewhere. Soon we had decided our destination: the Riuttaskorpi recreational forest.
Riuttaskorpi is a 16 sq km area in the north side of Ylöjärvi, near Kuru. It locates between 2 big national parks, Seitseminen and Helvetinjärvi.
This area hasn't had much of population during it's history. Mostly it is known for log floating and some of it's white waters have been used for mills.
Some of Finland's long trails go through this area, like Pirkan Taival for example. There is a lean-to and a few fireplaces, and also a sightseeing tower, which is closed now because of it's poor rotten condition. One rented sauna can be found by the lake Haukijärvi,  and next to the sauna there's a kitchen building which is open for everybody.
Parts of Riuttaskorpi log trails are also in poor condition, I hope the rotten logs will be replaced soon. There is a total of 15 km of trails to walk.
The day started from my home, where 3 of us met at 10 am. Unfortunately, one had to cancel, because his child got really sick and they had had to go to the hospital in the middle of the night.
It took about an hour to drive to the Myllykoski parking lot, where there were two more hammock hikers waiting for us.
Our first destination was only 500 meters away. It was the Suutarilankoski lean-to with it's white waters.
Suutarilankoski is a beautiful place. One can still see some remains of the old mills from the 1920's, or possibly even earlier. There wasn't as much of water running as usual, I think, since this small river is sometimes also used for canoeing and kayaking.
There was a small trail on the right bank, where we could access easier to the small flowing river. I jumped from rock to rock in the middle of the purling waters. Yellow leaves gave extra colors to the beautiful green moss around. I enjoyed the sound of purling water by closing my eyes.
It was a bit of a disappointment that we couldn't use the sightseeing tower because of it's poor condition. Parts of the stairs had been removed so that people wouldn't go up and possibly get hurt.
But there was quite a nice view from the rocks to the lake as well, even if we couldn't go up in the tower.
We also got a few deer keds on our way… I hate those. Hard to kill because they have such a strong armor, and they are really small insects. Crawling under the shirt and in the hair… nasty little… well, you know. They appear usually in the August and their season lasts around the end of September.
It didn't take long before we arrived to Haukikalliot (the Pike Rocks) and had a conversation whether this could be our place for the night or not.
We had some snacks and soon we decided to check out the last place by the lake Haukijärvi (Pike lake). If it wasn't a good place for us, we would come back here. We had lot's of time, since it was only 12.30 pm.
Most of the logs in the trail were in bad shape as I mentioned earlier. Also the table up on the hill had collapsed because the wood was too soft and rotten. But the trails were mostly in good condition, luckily.
Salinkalliot has an kitchen building with a fireplace and two big tables. It is a really nice cottage, but I forgot to take photos inside!
There was only a sauna down on the shore and no camping possibilities for all of us, so we decided to head back to Haukikalliot.
We set our hammocks and made a fire. We also made enough firewood for the whole night and for the next morning too.
Me and Jani decided to not use the tarps, since it was obvious that it wouldn't be raining at all. The weather forecast told us that the night would be clear, but the temperature would be around 0 celcius (32F).
We had a great evening! We chatted and made something to eat. Also some other people joined us and since they didn't have much of experience with hammocks, we showed them some of our own solutions with our hammocks and tarps. Hammock camping is a relatively new thing here in Finland.
The gear we had was this: 1 DD Frontline, 2 Ticket To The Moon's, 1 Amazonas and 2 Warbonnet Blackbird XLC's. Mostly DD Underquilts, since we don't have other options here available…
A friend of mine has a Warbonnet Wooki down underquilt, which he ordered for over a month ago. It cost around 85$ more in Finland because of the taxes and duty. Wish to get mine someday too.

Around 8 pm the sun was starting to set.  The weather was really calm, no wind at all. The lake reflected the sky and it's clouds perfectly. It was also very quiet, only sometimes I could hear some distant traffic noises from the roads far away.
I was really waiting for the night to fall, since I wanted to take some long exposure shots.
Finally some stars started to show up and only a glimpse of daylight was left in the West. I took my tripod and camera from my backpack and started to shoot.
I really love the night time when the sky is clear with all of it's billions of stars. This was the time I had been waiting for.
We went to sleep soon. I didn't sleep well because I mostly just looked at the stars and listened to the sounds of the night.
Above me there were Polaris, Capella and Pollux. I could see the bright Vega on the left side. I was hoping to see a shooting star. Eventually I fell asleep.
We had quite a cold night after all. The temperature went down to -4C (25F) so we had some ice on our hammocks and underquilt protectors (2QZQ).
One of us had only had a spaceblanket under him. He got a so called cold butt syndrome.
I used a Haglöfs +2C bag, but I also had a fleece blanket that I had wrapped around myself for the night. I felt warm and toasty all night round.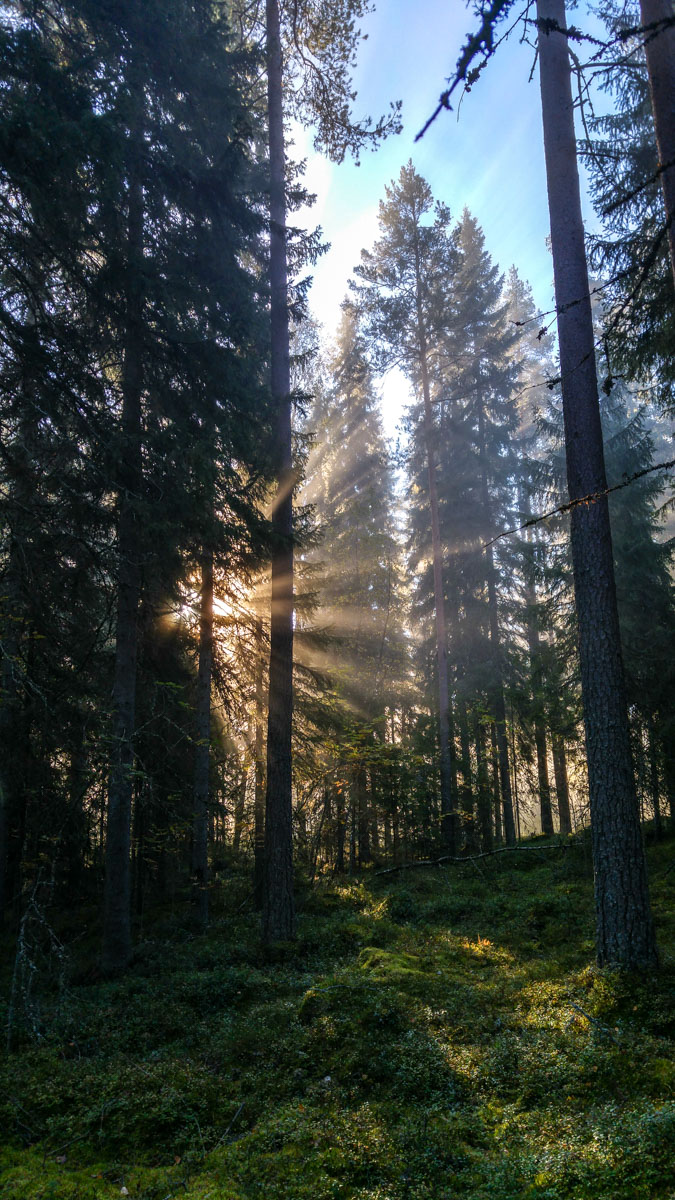 We left quite early, around 10 am. There was some sort of a hunting season going on, since we heard dogs barking and some shots being fired.
The car windows were a bit frozen so we let them be on idle to warm up. Meanwhile we talked about some ideas for our next meeting. Maybe we could book a sauna?
We will be having a big hammock meeting on the 2nd of October in the Nuuksio National Park, so that will be our next trip.
Over all, a splendid trip again! Enjoy your time in the woods on all of the seasons.
For more information about the Riuttaskorpi recreational forest, click here.
To see all my photos from this trip, click here.
Haukikalliot (pike rocks) area on a map.
https://finlandnaturally.com/wp-content/uploads/2016/09/DSCF8497.jpg
900
1200
Marko Hämäläinen
https://finlandnaturally.com/wp-content/uploads/2020/06/fne-logo-vaaka-web.png
Marko Hämäläinen
2016-09-29 10:37:20
2018-11-08 09:53:05
Spend a night outside – Riuttaskorpi recreational forest