Step into the winter wonderland: a winter walk in Southern Konnevesi National Park
Sometimes you just get an urge to get out of town, to go somewhere really quiet, with only few people around you. And if it's winter time, what could be better than to be surrounded by the whitest snow, breathe the purest air and share the moment with a friend… So let's go and visit one of our national parks!
There are 40 national parks in Finland; five of them are located in the province of Central Finland. To the south of Jyväskylä, there are Isojärvi National Park with its wooded hills and valleys, and Leivonmäki National Park with its easier marsh and esker terrain. The other three are north of Jyväskylä: about an hour's drive takes you either to the old forests of Pyhä-Häkki or to the lakes and hills of Southern Konnevesi National Park, while the northernmost Salamajärvi National Park with its wild forest reindeer, pine woods and bogs adds another hour to the journey. All of these national parks are best reached with a car.
Our day trip destination was chosen based on my previous trips to Southern Konnevesi National Park: we would easily manage the trail to Vuori-Kalaja campfire shelter and back in a few hours, even with the limited daylight hours of late December. After parking our car at Törmälä we saw – to our delight – that there were already footprints on the snow-covered forest road towards the start of the Vuori-Kalaja trail.
There is no winter maintenance on the forest road so in this season be prepared to first walk 1.5 km from Törmälä to the (summer) parking area from where the Vuori-Kalaja trail begins.
I had packed two pairs of snowshoes in the car just in case, but the path trodden in the snow seemed easy enough to walk without them. We just added garters to protect our boots from snow and started following the narrow trail. The forest around us was simply magical.
After inspecting the trail information at Kalaja parking area we stepped onto the Vuori-Kalaja trail. From this spot it is only 900 meters' walk to Vuori-Kalaja lean-to and campfire site.
That's when we really felt like stepping into the winter wonderland! The snow covered birches, alders and firs all around us were simply amazing. Nature's own sculptures!
Once we'd arrived at Vuori-Kalaja campfire shelter our first task was to make a fire and luckily, there was plenty of dry firewood available. Oh, where are my matches? There!
A campfire is always a treat, but especially on a winter trip.
After the fire was happily burning, I stepped to the shore of the frozen lake and admired the snowy view: Kalajanvuori (Kalaja hill).
The snowy, steep cliffs on the opposite shore of lake Vuori-Kalaja were impressive in their almost black and white glory. There is something special about a winter landscape that lacks all the vivid colors of the other seasons: a certain serenity. Everything stands still, all is calm.
As the winter had until now been fairly mild, I knew that it wouldn't be safe to step on the ice and walk across the lake to the cliffs (the ice just wasn't solid enough yet) so it was better to stay on land rather than risk it. Time to take out the thermos flasks, sandwiches, and did someone mention a slice of cake?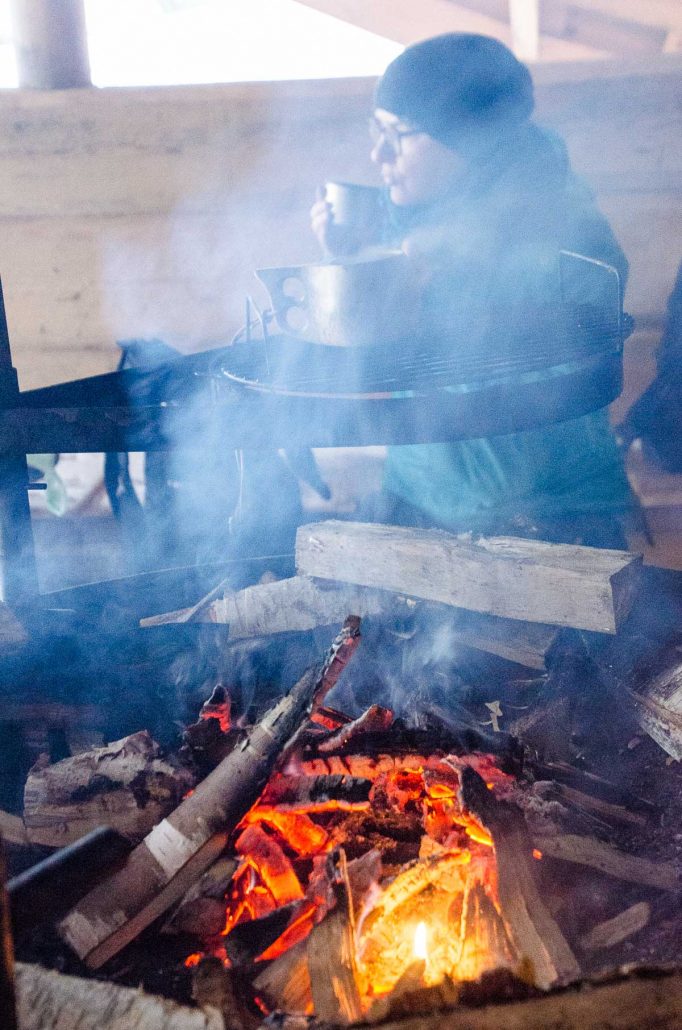 We were already sipping our cups of tea and coffee and digging into the cake when we heard voices from behind the shelter.
Three young men with big backpacks arrived and sat down for a bit of rest before heading back to their car. The brave trio had spent a night sleeping outdoors at another campfire site in the national park. Wow! Yes, you can go hiking in the woods also in wintertime if you've got the right gear – but for some of us, just a day trip is quite enough…
However, soon it was time to head back to the car and return to city lights, and enjoy the last minutes of winter magic in daylight before the drive home.
The dusk was already beginning to fall when we met the next winter walker, a young hiker with impressive looking gear, carrying also a pair of snowshoes. Just in case – to allow him to walk where there was no trail! The serious hikers were going to the woods while we city girls were leaving…
I wonder if we should try winter camping next time?
Directions: how to get to Southern Konnevesi National Park
Map to Törmälä parking area | ETRS-TM35FIN -coordinates  N=6941195.000, E=485582.000
Google Maps: Konnekoskentie 552, Rautalampi
Map, lean-to shelter at Vuori-Kalaja
This article has been previously published at visitcentralfinland.com.
https://finlandnaturally.com/wp-content/uploads/2018/01/Starting-Vuori-Kalaja-trail-SouthernKonnevesi-National-park.jpg
1000
2000
Upe Nykänen
https://finlandnaturally.com/wp-content/uploads/2020/06/fne-logo-vaaka-web.png
Upe Nykänen
2018-01-26 09:28:53
2018-11-08 10:14:30
Step into the winter wonderland: a winter walk in Southern Konnevesi National Park