So as some of you might know, I absolutely love being near Finnish lakes. I ended up spending a lot of time this summer in the Finnish nature, particularly in Joensuu. Since I live close to the nature there, it's really easy to just get on my bike and cycle to the lake or forest.
I also started making some videos this summer about exploring Finnish nature and practicing my photography (you can find them on www.jasontiilikainen.com). Anyways, here are some of the photos that I took this summer.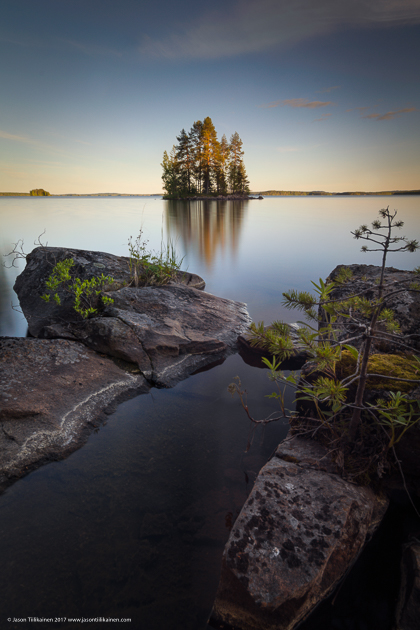 Pictured above is a small, lonely island soaking in the last bit of sunlight for the day. I went exploring on a few different islands this summer, and this lovely scene really caught my attention.
​Above​ is a shot that I took after rushing around on a lake by boat, trying to find the perfect place before the sunset. I managed to find this really nice place. I then waited for sunset and took the shot.​
In the picture above, I was exploring the shore of a lake in Joensuu. I found this nice little piece of driftwood just sitting around. I moved it slightly so that it would compliment the composition that I wanted, and then I took the shot just after the sun went down behind the horizon.
Above is a photo that I took in the forest. It was still about an hour or two before sunset, so I got some lovely sunlight coming into the forest from behind the trees. I love how green it gets here in Finland. Everything always looks so fresh and alive. The forest also has a really nice relaxing smell to it.
This sky in the above picture was amazing to behold. Being there and seeing this dreamy pink/purple colour in the clouds just felt completely out of this world. It was also really windy, and the clouds were moving really fast, giving it even more of a dramatic effect. Moments like these don't happen every day in Finland, but when they do, they are amazing to witness.
Sometimes its difficult to concentrate on taking photos when you have mesmerising moments like this one shown in the picture above. The weather was at first incredibly cloudy, almost overcast, but after a while the clouds started to break apart. After breaking apart, I was left with a sky that truly amazed me. The formations and shapes in the clouds really complimented the simplicity of the foreground.
Pictured above is me standing on a rock at the end of the day. I had just finished doing my photography, and thought I'd take this picture just for fun.
I hope everyone has a great autumn! I'm sure the colours will be amazing as usual, and that there will be tons of amazing photographs to look at. Bye for now!
https://finlandnaturally.com/wp-content/uploads/2017/09/Jason-Tiilikainen-At-The-Lake.jpg
630
945
Jason Tiilikainen
https://finlandnaturally.com/wp-content/uploads/2020/06/fne-logo-vaaka-web.png
Jason Tiilikainen
2017-09-01 07:16:19
2018-11-08 09:44:17
Some summer moments