Spending Time With Autumn
September was amazing and October has thus far been greatly rewarding. Autumn has kicked in, and in my opinion cannot overstay its welcome. Last month I managed to see the northern lights for the first time ever, right here in Joensuu and right above the city. The sunsets have been dramatic and the stars bright. Also, the fog has crept in and turned the routinely visible into the unknown. It's official, this time of the year is now my favourite.
Here are some moments that I've been happy to capture:
Above: Waves crash against some rocks on the shore of Lake Pyhäselkä, Joensuu. The cloudy weather can often bring powerful, dramatic skies to a sunset.
Above: This is a place that I just can't get enough of. This little island sits just off the shore from Kuhasalo in Joensuu. It's perfect for if you're looking to take a good picture. On this particular day the clouds were dramatic, the sun bursted through them and illuminated the island. I also found the green colour on the rocks to be a great foreground interest.
Above: My very first time experiencing the aurora. I went out looking for it, but it was only on my way home that I was treated to a show that I won't forget. This is not the most amazing photo of the northern lights, but the moment will stay with me forever. The photo was taken in Joensuu, with the church near the centre of the image.
Above: On certain clear nights, the milky way is out to light up the night sky, possibly giving you that feeling of insignificance but simultaneously making you feel immensely grateful to be part of it all.
Above: Onkilampi is a great little lake/pond in Kontiolahti. Every time I go there, this old jetty seems to draw me in. It has a lot of character and appears to have spent its time with many visitors before. This photo was taken on a windy day at sunset.
Above: Another sunset shot on the shores on a lake in Joensuu, Finland.
Above: My second time with the northern lights. I was absolutely amazed at the show I was given. This photo was taken in Kontiolahti.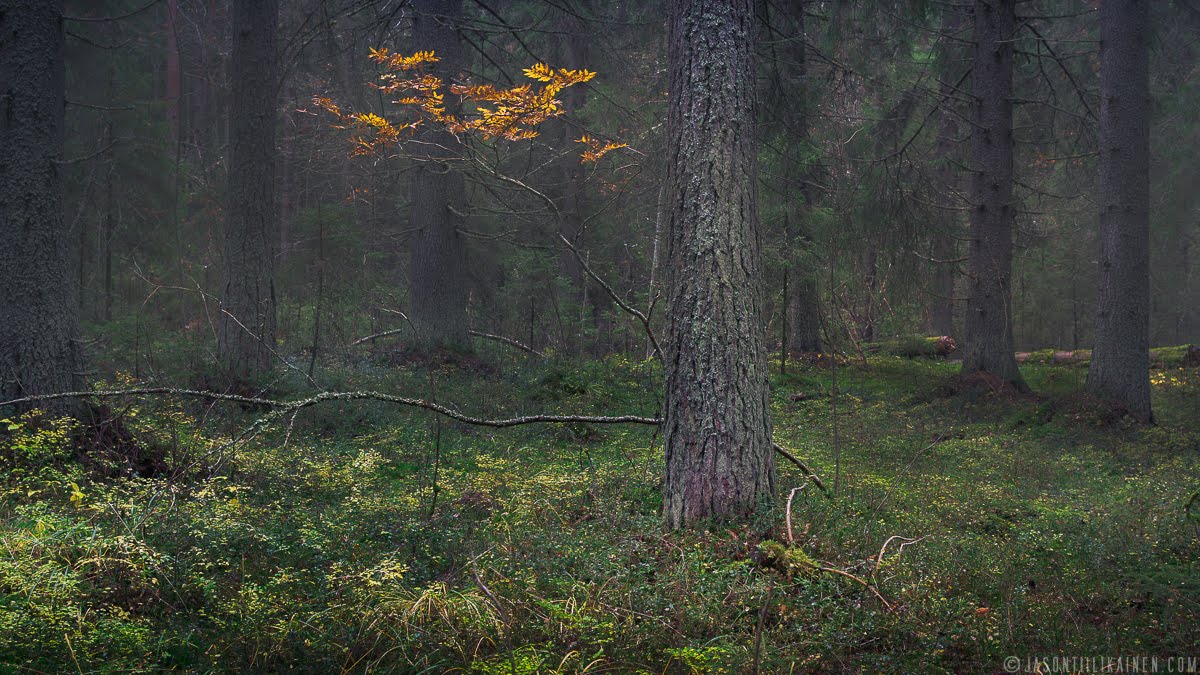 Above: Autumn has brought with it many different colours. The orange, yellow and red flora starts pop-out and introduce itself in a very bold manner, creating some interesting scenes to take in. Kukkosensaari offers much forest to explore.
Above: Birches lined up in the fog.
Above: A tree in the fog. Finland has been giving me some amazingly foggy scenes to appreciate.
So there you have it. Autumn has so far been fantastic here in Finland. With such a variety of things to see, it makes me wish that winter could somehow delay itself for a little while longer (and I think winter is awesome too). Every day seems full of things to appreciate and photographic opportunities to take. So see you out in the forest and remember to take your camera with you when you go! The Finnish nature is waiting for you 🙂
https://finlandnaturally.com/wp-content/uploads/2018/10/tiilikainenautumn3.jpg
800
1200
Jason Tiilikainen
https://finlandnaturally.com/wp-content/uploads/2020/06/fne-logo-vaaka-web.png
Jason Tiilikainen
2018-10-22 12:47:53
2020-04-30 08:56:25
Spending Time With Autumn