Over the last few months I've been fairly busy with things other than photography, but never too busy for an occasional trip to the water. The Finnish lakes have once again been calling my name and spoiling me with moments of tranquility and a feeling that makes me appreciate life in the greater sense.
I always feel as though something is pulling me into the forest or towards a lake and that I have very little control over it (help?). So in connection with what seems to be a loss of free will to some degree, I have managed to get a few photos over the last few months. Below are some more scenes that Finnish nature has been so kind to bless me with.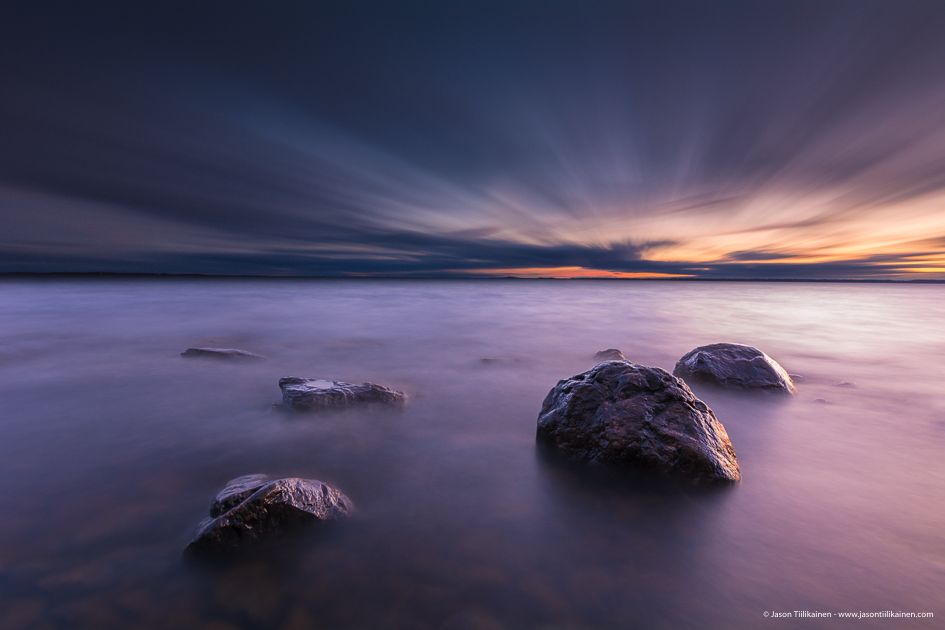 Above: A sunset over lake Pyhäselkä in Joensuu, Finland. The weather was windy and clouds were moving through the sky fairly quickly.
Above:​ An ice fisherman leaves the frozen lake after a fishing session. This photo was taken after some heavy snowfall that left all rocks on the shore completely covered.
Above: A splash of sunlight to end the day off spectacularly.
Above: Trails of snow leave interesting formations over the lake.
Above: A maze of snow coating the icy lake surface. This was the first time that I had seen these types of interesting shapes.
Above: Another very long exposure shot with fast moving clouds.
Above: Another shot of the sun hovering over waves of snow. Goodbye for now, my warmest of friends.
Wishing everyone in Finland a great and fun-filled winter. Don't forget to catch the sunsets!
https://finlandnaturally.com/wp-content/uploads/2018/02/Jason-Tiilikainen.jpg
630
945
Jason Tiilikainen
https://finlandnaturally.com/wp-content/uploads/2020/06/fne-logo-vaaka-web.png
Jason Tiilikainen
2018-02-12 09:33:44
2018-11-08 09:43:54
The Lakes Are Calling