This past winter here has been a bit different for me in terms of photography. I focused less on creating my more typical landscapes and tried to introduce a more human element into my images. I wanted to somehow show what it feels like to experience the amazing and surrealistic side of the Finnish wintertime. Whether it's watching the sun go down in the middle of the day, or witnessing my city becoming hidden from snowfall, I had some fantastically memorable experiences this time around, and now I'd like to share a few of these memories with you. Here are some photos from winter.
Above: My favourite local island "Voiluoto", sits on the frozen lake in the chilly and fresh weather. I love how soft and calm the scene appeared on that particular day. It was almost like the clouds appeared as markings from a paintbrush pressed flat onto a canvas.
Above: Curves of snow sweep along the lake at sunset. I decided to put myself in the image to show the scope and vastness of the scene. It was really a beautiful moment to behold.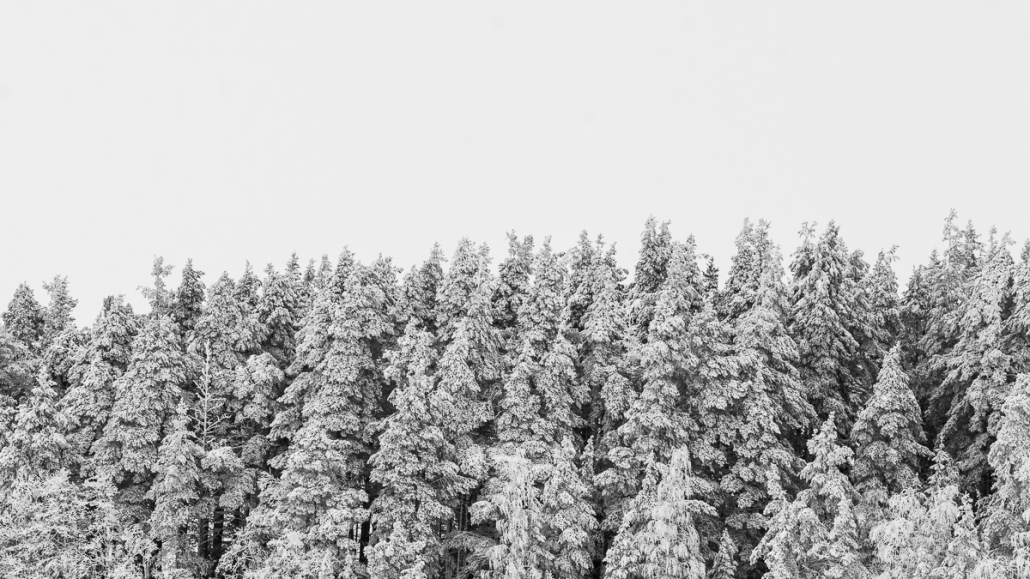 Above: Not my most interesting photo, but I just found it to be a very simple way of showing the snowy treetops on a typical overcast and wintery day here in Finland. I really enjoy the contrast that the snow has with the darker shadows from the trees.
Above: A night spent exploring under the stars at twilight. I was waiting for the sky to get darker so that I could do some astrophotography, but whether you're into photography or not, I highly recommend having a nice winter walk after sunset. It's amazing when the last glow of sunlight stretches across the horizon and the stars start to pop up in the sky. Just remember to dress warmly and to take precaution when venturing outdoors, especially on the lakes.
Above: In this image I wanted to recreate the beautiful sense of mystery that the Finnish winter scenery can provide. The frozen lakes and night sky can make a great combination for photography, or even if you just want to experience the other-worldly atmosphere without a camera.
Above: There was one particularly stormy day here in Joensuu. The snow was coming down like crazy and the wind was blowing like mad. This image was taken just outside of the city, showing someone skiing through the stormy conditions. I found this stormy weather to be fascinating, so I sheltered myself under a tree, set up my tripod and took this shot.
Above: Another moment venturing outdoors. The winter weather can occasionally be so wintery that it conceals everything in the distance, making for some awesome and simplistic photography. Just to experience it feels like you are in a dream, or up in the clouds!
Above: Sitting on the lake one night with my lantern. The air was incredibly frosty and refreshing. This image would probably round-up my experience over the last season best. The adventure, moody and mysterious darkness, crisp air and spectacular snowy landscapes all combined to make it a winter worth remembering.
Although the winter is cold and dark, there is a strange and wonderful side to it. There is something special about Finland and its nature all throughout the year, and I think that however you wish to experience it, there is always something special to find or some alluring moment to take in. Now that spring is here and the lakes are starting to thaw again, I can't help but feel excited for the summer, even though I know that a part of me will miss the ice-cold beauty that winter has to offer. Anyways, it's all good stuff over here 🙂
Hope that you all had a great snowy season and that you have a fantastic spring! See you out there in the nature.
-Jason
https://finlandnaturally.com/wp-content/uploads/2019/04/jasonsunsetsnow.jpg
800
1200
Jason Tiilikainen
https://finlandnaturally.com/wp-content/uploads/2020/06/fne-logo-vaaka-web.png
Jason Tiilikainen
2019-04-01 07:22:37
2020-04-30 08:51:44
Wandering through Winter