For wine enthusiasts the combination of food and wine is familiar. But is there even more to explore in the tastes of wines combining with other scents? That question Antti Huttunen, the founder of Finnish outdoor media Retkipaikka and co-creator of Back to Nature tv-series, wanted to examine more. He wanted to bring together two themes that are important to him: nature and wines. This is where the idea of a forest wine bar came from!
Even only 15 minutes in nature can make you feel relaxed.
Wine in the Woods starts in the Northern Gate of Nuuksio, an area right next to Nuuksio National Park. Nuuksio is the closest national park to the capital of Finland, Helsinki. It takes only around 45 minutes to jump from the busy metropolitan city to the calming nature and forests.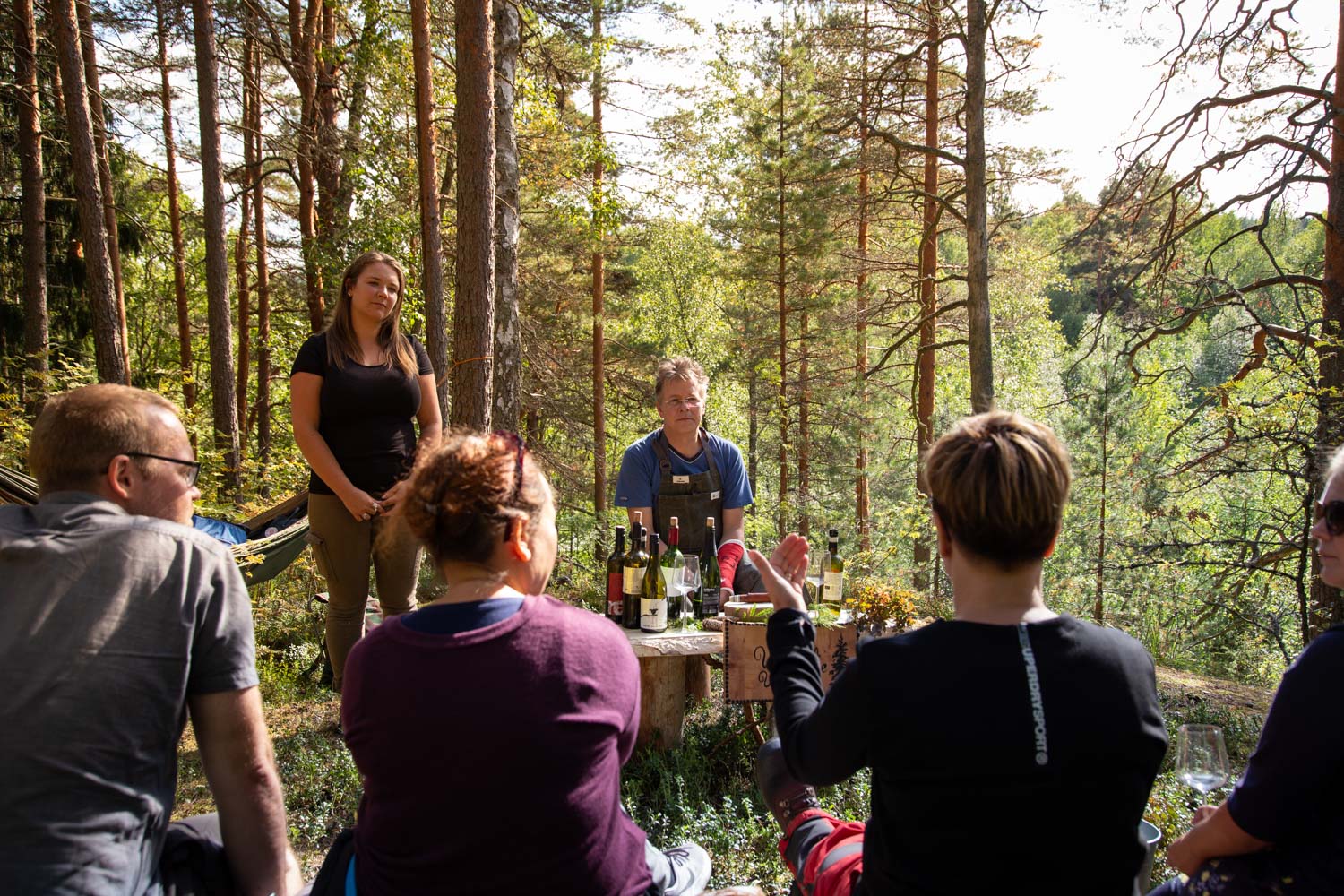 Karoliina Säkö, the guide of Wine in the Woods, welcomes our group in a lovely setting surrounded by countryside. We take a small walk around the historical buildings and take a look of the old stone stairs that once lead to the mansion of this area.
As we go deeper into the forest we start to connect our scents with the nature. Living in a busy city environment can make us nervous and disturb our minds, but nature can offer the opposite. It has been studied that only 15 minutes spent in nature can actually lower your blood pressure.
We take time for each sense to get attuned with the nature. How does the forest look like? What sounds do we hear, or, when we close our eyes, how does a small rock feel in our hands? It is incredible how strong our sense of touch will become if we close our vision and hearing!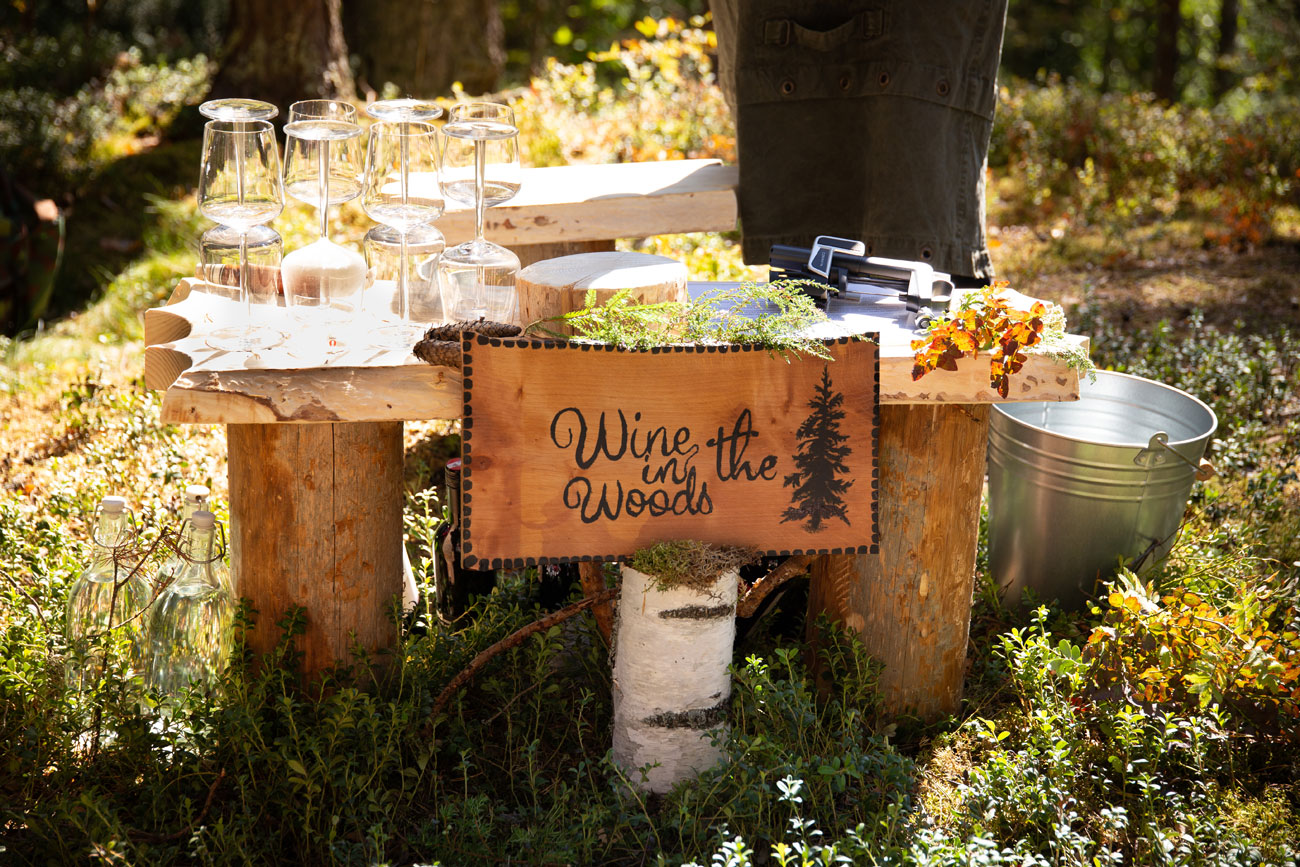 After approximately 15 minutes we will enter deeper into the woods and will pass a wooden sign which tells us that we are now entering the nature's own dining area: Wine in the Woods. We see the area with wooden benches with paddings, and sommelier Tero Pullinen, who welcomes everybody.
As a welcoming drink we get a glass of sparkling wine, which is also to calibrate our taste buds for the actual products of the wine tasting. There are five different red wines to taste and examine. Tero tells us about the wines and how they are connected with the nature.
Wines and Finnish woods have actually more in common that one would think at first! They both are living entireties and have many different layers. They are at constant change and when they meet each other you can find completely new sides from both wines and nature.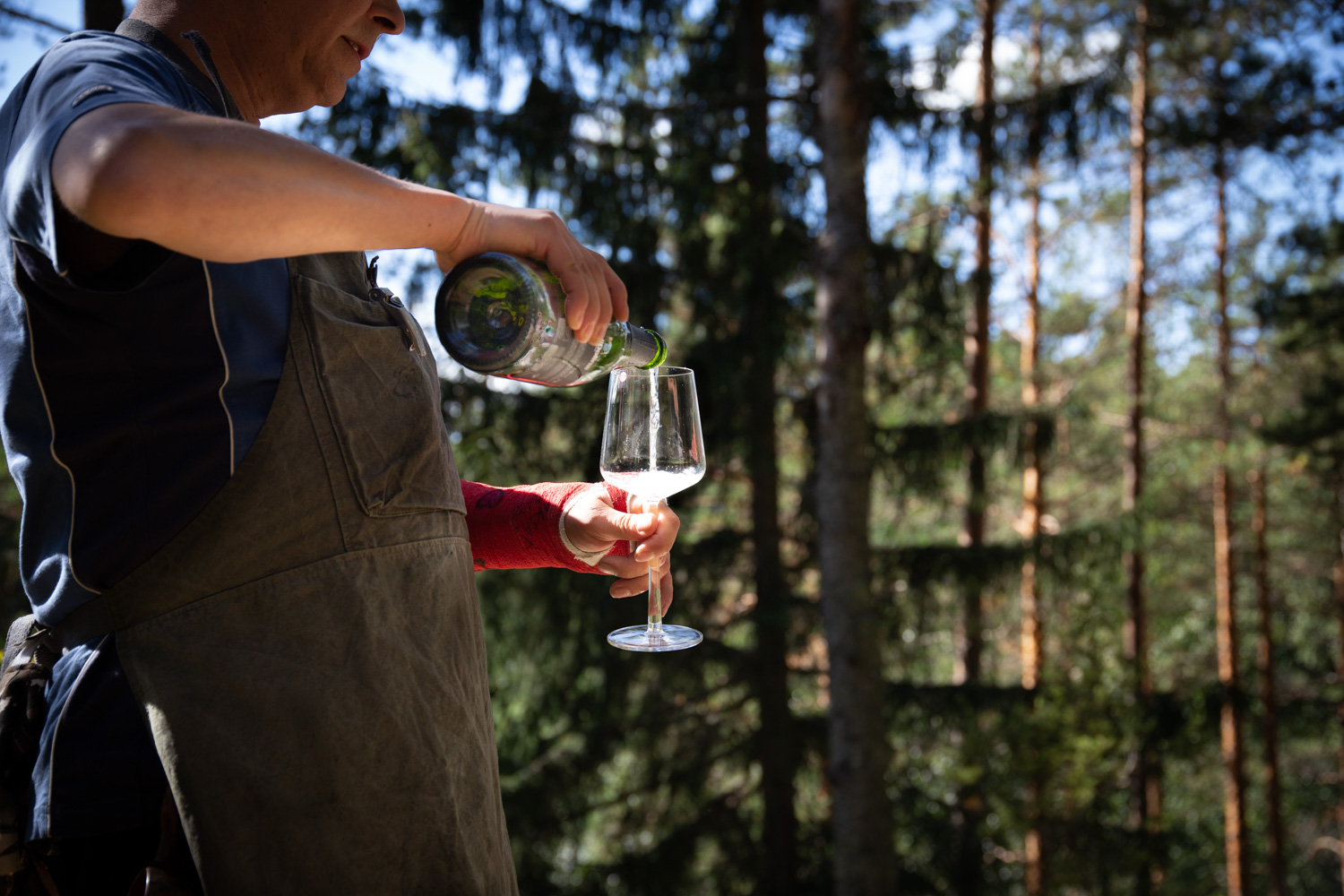 "The wines have a chance to return to nature, from where they have come, where everything is equal and where instead of strict restraint and control, constant change is present and embraced."
We talk about our experiences and observations about the wines and nature. The atmosphere is comfortable and there is room for discussion. Even if one had no previous experience with wines or wine tastings, this nature's surroundings will make this experience effortless.
The experience in nature with wines takes two hours. After the tasting the program itself is over, and everyone can choose how to continue their day. Maybe take a small hike in the National Park? Or, it is also possible to enjoy a forest themed menu, if one has reserved it in advance.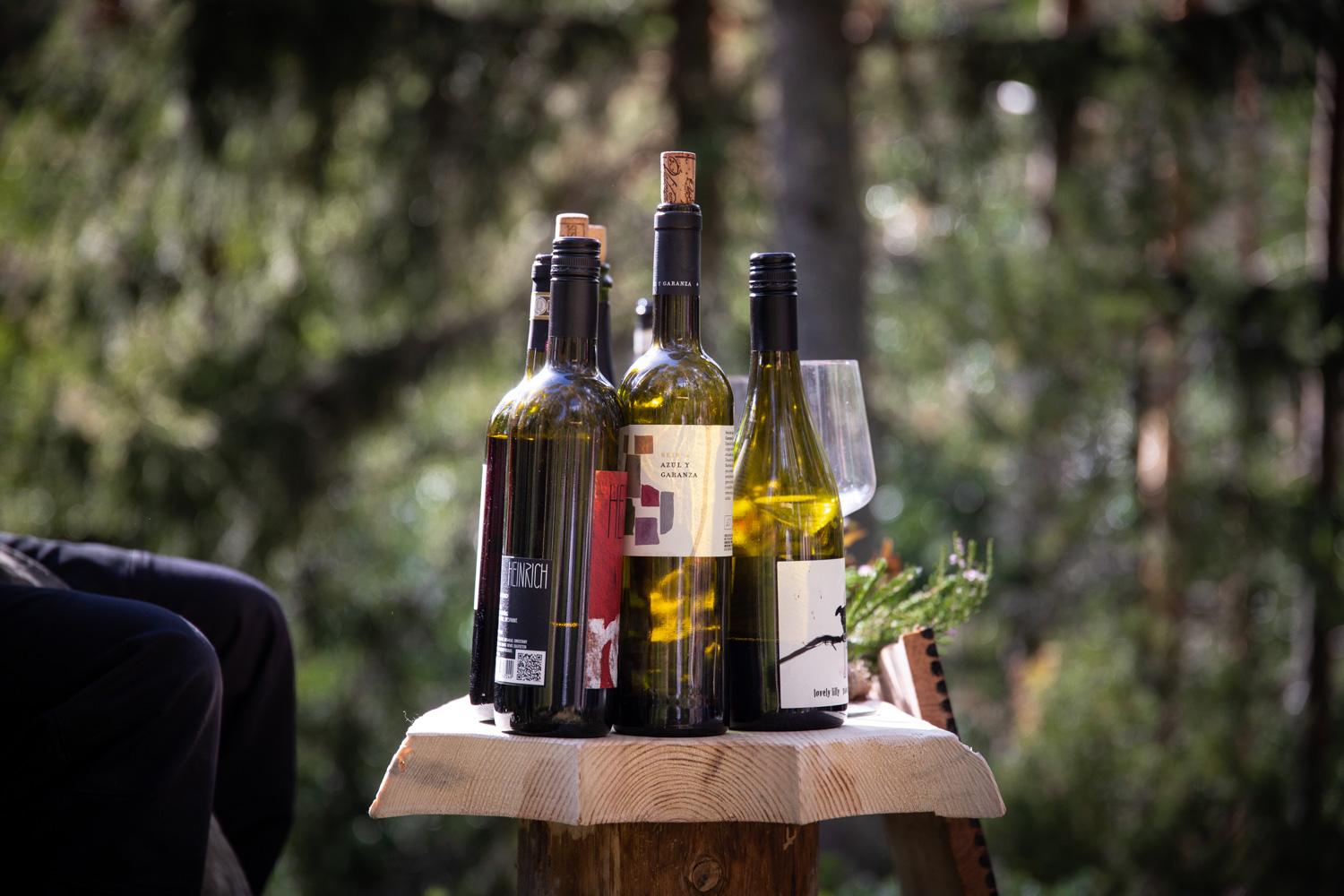 Wine in the Woods is a wine bar in the middle of forest and Antti explains how these several chosen spots in nature had to be presented to the authority in order to ask permission to serve spirits. In Finland the alcohol law is strict and you will need a permission for every place, restaurant or event that serves alcohol. Happily ever after the Wine in the Woods wine tasting got its permission and the next summers luxury outdoor experience is ready to happen!
Antti is happy for the positive feedback given by the test audience after the pilot-tasting. The Wine in the Woods experience is recommended for everyone who loves nature and wines. It is also a great opportunity if one wants to enjoy the nature but not necessarily in an exercising way.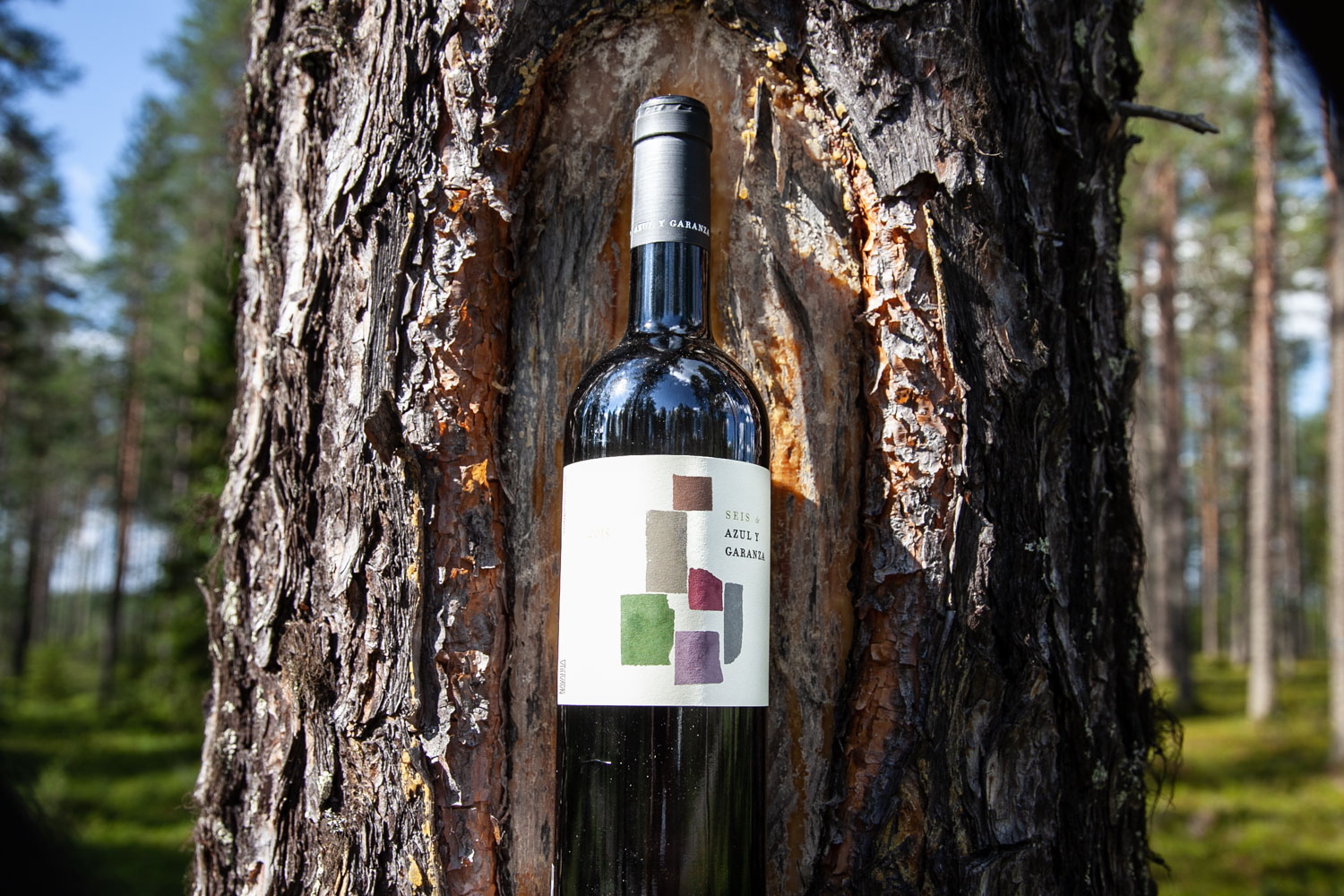 "The taste and smell of a wine can take me into the middle of the forest, to some particular spots: under the shade of spruce branches, onto the warmth of the rocks, or amongst the lush foliage of the birch. I find this fascinating and want to give others the chance to experience the same – and a little more. I can't wait to see what kind of experience we can offer you. Welcome!" -Antti Huttunen
If you are a nature lover who enjoys the tastes of wines or you want to experience something completely new, check out the web store here where you can reserve your place at the Wine in the Woods experience next summer! It is also available for group booking or you can purchase a Wine in the Woods giftcard!
https://finlandnaturally.com/wp-content/uploads/2018/12/wine-in-the-woods-2-4.jpg
3648
5472
Kaija Ryytty
https://finlandnaturally.com/wp-content/uploads/2020/06/fne-logo-vaaka-web.png
Kaija Ryytty
2018-12-19 12:44:17
2020-04-30 08:55:33
This is what Wine in the Woods is like