Stand up Paddleboarding the rivers of Lapland
Article by Onni Kojo
Usually SUP boards are used for short day trips at lakes, shores, or rivers. But there is a small number of people who choose a paddleboard over the kayak or canoe for multi-day trips, mostly descending along the river as far as you ever want to go. This style of exploring is not hard in Finnish Lapland. It is full of rivers, most of them eventually flowing into the gulf of Bothnia, a few flowing east to Russia and north to Norway and the Arctic Sea. In fact, the biggest river basin in Finland, Kemijoki, covers most of Lapland. It and other rivers of Lapland give adventurers endless possibilities to explore and see the beauty of the northern nature from a different point of view. Sitting in a rowing boat or a kayak gets you really close to the rich river nature, but SUP paddleboarding gives you a different aspect on all of this, as it gives you the freedom to change position while paddling down the stream. You can stand up or even lie down as you let the stream take you.
On river adventures, one must remember a few things. There is going to be some currents and maybe some obstacles on the way. It's important to check if there are any dams or bigger streams along the way, or any big obstacles because of which you have to carry the boat of choice on the other side of the obstacle. A good thing in Lapland is that you'll find plenty of water to paddle on without any major barriers.
Inflatable SUP boards are fairly easy to carry around and are super handy to pack in your car. This gives a lot of freedom in choosing where to go and how. Also, with these, you can go in shallow water without worries. Just remember to take the fin off the board when going in shallow water or a current with rocks etc.
A no-brainer for all paddling trips is to pack all your gear in waterproof bags. This one is a must on multi-day trips. Don't worry if you fall down, your sleeping bag is dry! A good tip for packing is to put everything in different colour bags to know where to find certain things.
If you're afraid to stand up on the board whenever there is a stronger current, you can always be on your knees or sit down. Usually on small rivers the flow is not going to be that speedy. Standing up is also way more fun!
The Amazon of the North
One of the many river branches of the Kemi river is Kairijoki. This one starts near the wilderness of Kemihaara, one of the most isolated places in Lapland. Kairi river is a popular destination for fly fishing but paddling down this crystal clear river is possible too.
One beautiful August weekend a group of paddle boarders set down to explore this area. Far away from the reach of mobile network at the end of a dirt road, we set our paddleboards into the river and started paddling down. The stream was moving slowly, but well enough to help the journey. We did not have fins on the boards at all because there was going to be a lot of tiny shallow rapids that we had had to paddle through. It wasn't easy to paddle without the fin, but it gave the freedom to go through the shallow parts without stopping.
The water in this river is so clear that sometimes it feels like floating in the air! All the water plants swaying with the current, trout and grayling swimming under the board. The feeling of floating on the river can be a magical experience.
When hitting the first currents I didn't stand up. I felt like I would fall if I'd hit a rock. But the current was never too strong that the small bumps would bring down the paddler. Of course, you have to have a little bit of stability with the board. All in all, it is very easy to learn though. A little bit of practice is enough. This is not like other board sports that would need a bit more practice.
Once I stood up and went through the small rapids I felt like the lumberjacks in the older days when they'd use these same rivers for log floating, sometimes standing on the logs in the river and trying to keep the balance. It is true, we were not the first ones to stand-up paddle down these rivers. You can still see signs of this as there are sometimes sunken logs on the bottom of the river.
Some parts of the river were not going so speedy so there was more paddling to do to get forward. This can be quite tiring on the long run. No worries though, you can always just chill out and lie down on your board and tie it on the riverbank. Or you can just let the slow current take you. I guess I found my favourite way of travelling: lying on a paddleboard on a sunny day just looking at the clouds and tree branches and birds going by. This can be almost too relaxing so you must watch out not to sleep when there are stronger rapids ahead!
Kairi river has an awesome wilderness lodge about midway of the river. This place has nice cottages and a sauna by the river: perfect place to rest for an exhausted wilderness adventurer after a long day of paddling. When we went swimming from the sauna, we had to keep ourselves in place, so we didn't go with the flow. The water is cold here but there is nothing more refreshing than a dip into a clear and clean Lapland river from the steam of the sauna. 
I woke up before the sunrise and walked down the riverbank. I was trying to catch some fish but this time I had no luck. I didn't really mind. There is something mysterious about early mornings. It's so calm and quiet. Everything is still. Then, slowly the nature starts to wake up. Every bird singing. Fish jumping in the river. The sun rising behind the forest and shining through the mist was spectacular. Also, all the insects woke up at the same time. Unfortunately, the biting ones as well so I had to go back to the cabin and wait for the day to start.
The second day of this expedition was hot and sunny. The mosquito season was pretty much over and luckily there were no horse flies. Sometimes there might be annoying small biting midges. Usually a little bit of wind and hot sun keeps them away. Depending on the year or the season there might be a bit more insects. You just have to protect yourself from these biting devils and you're good to go. Quite often there is a bit of wind in the open river, so it helps. Evenings and mornings, swamps and shady places are to avoid especially in the middle of the summer.
There are many lean-to shelters and fireplaces along the way so stopping for lunch was easy. Of course, you don't have to stop and land for snacks: it's possible to have your picnic on the board! Fireplaces usually have an outhouse toilet but in other places one must go a bit further from the shores for their needs.
We tried to find a wave in a rapid big enough to try a little surf. It was hard to paddle in a strong current and try to "catch the wave". You have to have very good skills in paddling when going in the currents. River surfing is a thing, but with a SUP board it's quite challenging. Especially if you have a lot of gear on the board. I did try to catch a wave, but I ended falling down as I was sideways in a bit of a stronger current. The river is not that deep so I could just hold myself and the board in the current. It still surprised me how strong it can be. A little dip and feeling the current was a good reminder to not get too comfortable with the stream. You always have to watch out for the rocks and stay on the main current!
After about 15 km I just laid down on the board and put my hat on my face. The hot and sunny day made it feel like I was in Asia. The board just went with the flow and I almost fell asleep. The lush green of the birches and aspens against the clear blue sky made it hard to believe that we were inside the Arctic Circle.
The river nature is very rich. There are so much different kinds of fish, mussels and plants, sometimes even crayfish, under the surface and on the surface dragonflies and other insects, the birds often going after them. The water birds diving to the bottom to eat or catch a fish. We even saw some common goldeneyes diving under our boards! Ducks, cranes and terns are living here too. The river brings a lot of life around it. Everyone must drink of course. But moose, for example, also like to eat the aquatic plants. You can see a lot of life on your river journey. Especially if you stay quiet and just observe.
Our journey was successful. Sometimes I went alone and just enjoyed, sometimes we would paddle next to each other and chat. We paddled 40 km in two days. Just as it was getting a bit exhausting, we reached the mighty Kemi river and paddled it a little bit more to reach our goal and our car. Some folk who have their houses and cottages along the river were looking, maybe a bit surprised, that someone would paddleboard over here. I just waved at them. This was fun!
I was eager to have a solo multi-day trip with the board. I also wanted to try how I can manage to get all my camping gear with me. So, the next weekend I set off to another branch of the Kemi river: Pyhäjoki. Pyhä river starts from the National park of Pyhä-Luosto. This would also be a 40 km long journey towards the Kemi river. 
As I was looking at the map of the whole river system, I realized how much is reachable by waterways. Certainly, this was the way that people would explore new lands in the older days. But now, how many people would travel long distances by rivers? The downside is that like a lot of other rivers in the world, this one was also dammed. Good thing was that with kayaks, canoes and paddleboards, it could be possible to do very long trips using this river system as you can carry them and go around the dam.
I set sail one cloudy afternoon from the lake Pyhäjärvi, which had a small tidal wave going on. I had taken the fin off the board as I knew that the river would be very shallow. The board was packed with gear and food, so it wasn't easy to reach the river with this style. When I reached the mouth of the river, I had another obstacle. There was a few hundred meters of bush ahead of me. Of course! By August the shallow river lands would be grown over. It was already afternoon that I'd left for my solo adventure, so I felt like I was late. When I finally got through the bush and stood up on the board, the current took me into a place that looked like a jungle. The grass brought by the spring floods hung from the trees and the different shades of green everywhere made the scenery unreal. I have never seen nature from this perspective. 
Standing on the board, seeing over the banks. Fish and water plants under me. Common goldeneye flew over my shoulder and there were reindeer in the forest, munching on some moss and looking at me. I was just floating by and admiring.
The day turned into an evening before I was at my planned camping site. It wasn't dark yet, but the sun was going down. I thought that it would actually be interesting to do this in the dark with a headlamp on. So I took my time, not rushing. Just silently paddling. A baby moose was eating water plants after a curve. It looked at me and didn't really mind before it's mother in the forest took fright and it realized that I might be a danger. I floated by and looked at the mama moose in the forest. We both stared at each other as I went by. I'm always amazed how big of an animal they are when I see them.
I reached a nice fireplace before the dark. The nighttime paddling would be another adventure. I could hear the nearby small rapids from the tent. This was a good wake-up call the next day when I continued, getting to go slightly faster first thing in the morning.
It was a very windy day. All the trees were wobbling and I almost stumbled as well. It was mainly tailwind so it made it easy to advance. I wish I'd had a sail on this boat! Some swans that flew by were struggling too because of the wind. The day was also a bit chillier. But clear. There were signs of the autumn coming slowly.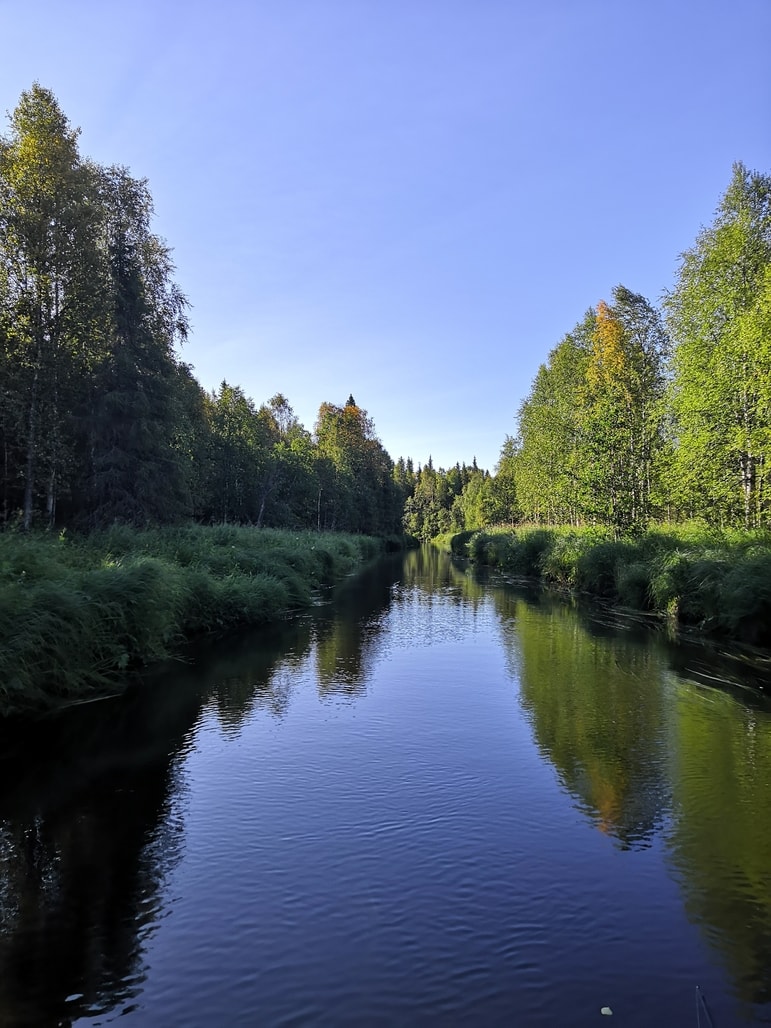 The last few kilometres before reaching the main river it got deeper and there were less water plants. I had brought my fishing gear with me and it was finally possible to try fishing on this river while supping. Trolling is my favourite style of fishing because you're on the move at the same time. It was a bit of a struggle at first but once I got a good stance and enough speed for the SUP it worked! A few perch and northern pike were the catch. There is a different kind of feeling when catching a northern pike when you are on a SUP board. This is definitely my new favourite hobby. SUP fishing!
Fishing has been especially important for all who live along the rivers of Lapland. The dams have made it harder follow on the traditional way of river life. But there still are free flowing rivers and clean ones, too. It is very important that we take care of the rich and vulnerable river nature. It's everyone's best interest that the waters stay clean, without fertilizers from forestry or the sewage of the mines. There is so much life along the many rivers of the North. I mean, most of the people live by them as well! Certainly, rivers are important for all life. One way of truly realizing this, is to see it close by. The Amazon of the North is full of rivers to experience all of this.
How to plan a multi-day SUP trip in Lapland
The best time to go is all summer. The early summer, in May and the beginning of June, is free from mosquitos, but there might be strong currents and floods to watch out for. Late summer is good as the water is usually low and the worst biting insect season is over. I don't see any issues going during fall as well.
It is a good thing to have a wet suit or a dry suit on, or at least have dry clothes with you if you fall. The waters in Lapland are always cold so it's good to prepare for that.
Have a good map of the area. With more then one vehicle it is easy to plan the starting and ending points. If that is not possible, you can always ask local tour guides, wilderness lodges and generally just locals, for helping out on the transfer.
Be aware of everyman's rights and duties. Keep a distance of private property on land and water. Have your wilderness toilet in a distance from the waterways. Respect the nature and take everything you bring into the nature back with you.
For example the lake Pyhäjärvi in Pyhä region is a good place to try SUP boarding in Lapland. If you are not comfortable with the SUP board, kayaks and canoes are available too. If you have your own board, there are plenty of possible rivers to paddle down in all of Lapland. You can always ask for the possibility of renting a board from the local tour guides where ever you decide to go. An inexpensive way to do a multi-day trip along the rivers is to just buy waterproof bags (they can be low-priced) and rent a board for a few days. You don't necessarily need a dry suit. Just don't fool around too much and have dry clothes ready!
https://finlandnaturally.com/wp-content/uploads/2020/08/SUP-onnikojo.jpg
1028
1371
Onni Kojo
https://finlandnaturally.com/wp-content/uploads/2020/06/fne-logo-vaaka-web.png
Onni Kojo
2020-09-06 09:00:15
2020-08-31 11:38:54
Stand up Paddleboarding the rivers of Lapland