If you're hiking in the Häme region, north of Helsinki, you can take advantage of the fun Digitrail* mobile application that guides you through the nature trails. The idea of the application, developed by Häme University of Applied Sciences, is to work like a navigator on a particular trail, encouraging people to get out and explore nature.
There are five trail networks on the app, which we test in this new article series. We were now at the first app location that was ready for trial, which was the Ruostejärvi Recreation Area on the Häme Lake Highlands, in Tammela.
There are three route options for all locations: easy, medium and challenging. The starting point for each is the Häme Nature Center.
This time we chose to test the easiest trail. On this route we could go investigate the kid's all-time favourite, the cable boat!
I left any other maps behind, and we decided to just find our way using the app. Your position is shown on the map as a blue dot and the trail as a purple line with destination points show as map symbols. So off we went!
First, we made our way through a dark and dense, spooky spruce forest, along an easy gravel path. Under the close-knit branches, even on bright summer's day like today, the forest was dim. It was like being in another world.
Our journey continued. Next appeared a smaller path down which we were supposed to go. Summer was giving its best, pampering us with warm rays, but the mosquitoes were thankfully nowhere to be seen. A tree that had fallen over the path, which could have been an annoying barrier in other circumstances, now provided a perfect seat for a little rest. But only a little one, as the adventure must go on.
Moments later, the path came to the lakeshore, where it followed the lake until it reached the highlight of the trail, the cable boat. When I said that this place is perfect for kids, the next sight just confirmed it. Right at that spot there were four of them fishing with a rod and line.
Before we could even say hello, two boys already volunteered to help us over.
It didn't take long for the boys to hoist us over. We exchanged a few words with them and then carried on our way.
After the cable boat, the path curves to the left, to the beautiful duckboards that take you to your final destination, a peaceful campfire spot. We sat there for a longer while. Taking refreshing sips of water, we relaxed in our surroundings, aware and present.
In fact, I'm not even sure how long we stayed, so our relaxation exercise did its job. Now in front of us was the other half of the journey, the same route back, at least up to the gravel path. From there we chose another fork offered by the app, which took as along the shore back to the nature centre, arriving right next to the swimming beach.
The app did its job well and delivered exactly what it promised. The path was excellent for children to walk along: suitably short, mostly easy to walk, but also a hill and some more uneven terrain that develops balance and motor skills. The fallen tree and the cable boat were the highlights.
Our testing continues, and in the next sections we will explore the DigiTrail further.
You can download the app here.
*DigiTrail is a mobile application that works in nature like a navigator and thus lowers the threshold to explore nature areas. The application guides the traveller in the woods, shows nearby services and attractions. In addition, it provides interesting information, for example, about the history of the region and can be used to activate its users with different themes, such as forest related sports and cultural content.
https://finlandnaturally.com/wp-content/uploads/2019/01/digitrailtammela5.jpg
1365
2048
Antti Huttunen
https://finlandnaturally.com/wp-content/uploads/2016/08/finlandnaturally-logo.png
Antti Huttunen
2019-01-10 07:34:54
2019-01-10 07:36:44
Ruostejärvi recreation area is a hit with the kids, particularly with a fun new mobile app to guide you on trails
If you are in Helsinki in the beginning of June, you really need to go to Haaga. Or if we are honest, it is worth to come and watch from a distance.  Rhododendron park of Haaga is just unbelievable.
I still remember when I found this place for the first time. When approaching the park I felt a pleasant scent that kept intensifying with each step.  When I was in the park, I thought: "People do not believe that in Finland we could have such parks".
I closed my eyes and opened them again. It was like another world. I do not remember ever seeing anything like it. The place was filled by so much beauty that I was overwhelmed. In every direction my eyes could see huge rhododendron bushes blooming all at the same time.
The park was built when the University of Helsinki plant breeding science department crossed rhododendron varieties in the 1970s.  Now the place is a secret jewel in the crown of Helsinki. The park is also internationally unique. As many as eight acres of the area has nowadays nearly 3,000 rhododendron species. Beside rhododendrons, there are a whole bunch of azaleas in the park. Most of the bushes is 2–5 meters high.
You really need to see this park. Pictures show just a small part of the beauty when coniferous forest greenery is painted with new purple, white and pink shades.
If you want to experience all this, you need to have a perfect timing. Rhododendrons bloom for a short time, usually in the first two weeks of June.
You can on a criss-crossing the park paths and boardwalks through the rhohos and have a close view. The park also has viewing platforms from which you can admire the floral splendor also from above.
What?
Astonishingly wonderful 8 hectare park full of rhododendrons
When?
Usually the best time is two first weeks of June
Where?
Laajasuontie 37. 200 meters from Huopalahti station between the roads Paatsamatie and Eliel Saarisen tie.
https://finlandnaturally.com/wp-content/uploads/2017/06/rhodopuisto-5.jpg
685
1028
Antti Huttunen
https://finlandnaturally.com/wp-content/uploads/2016/08/finlandnaturally-logo.png
Antti Huttunen
2018-05-13 08:19:17
2018-11-07 12:42:49
Must see! The Secret Jewel in the Crown of Helsinki - Rhododendron Park of Haaga
We share the same ancestors as the birch tree, from which this firewood was taken. That is the world's most beautiful fact. Understanding how everything is connected, could provide an important insight into the well-being of mankind.
In the belly of a dark tipi-like hut, a bright fire hisses and crackles. Trees exhale their final breaths as gentle heat and smoke. Afternoon November rain taps on the roof.
Tuomas Holopainen is celebrating the sabbath. 20 years of Nightwish and a tour lasting a year and a half are now behind him.
'I asked the band, what if we take a little breather after the tour. It would probably do our heads some good', Tuomas explains.
'Everybody thought it was a sound idea', and now here we are.
The legacy of the backwoods.
At primary school, Tuomas was a lone wolf.
'I didn't have a lot of friends, but I didn't want a lot either. At my childhood home I spent all my days in the local woods or the field. Frodo and Bilbo and Huey, Dewey and Louie were the best of the bunch.
The lonely days of childhood were not lonely in the negative sense. I made up imaginary friends, forest trolls and gnomes, and that took me into the forest everyday, I felt extremely happy there.'
Tuomas was not cut out to live in the city. At one point he studied biology and lived in Kuopio for half a year. That was enough urban life for him.
'People often like things they've had exposure to as a child. And I've lived my whole life in Kitee in the middle of the forest. That's something that's always stayed with me, the desire to stay near the forest and the lake.'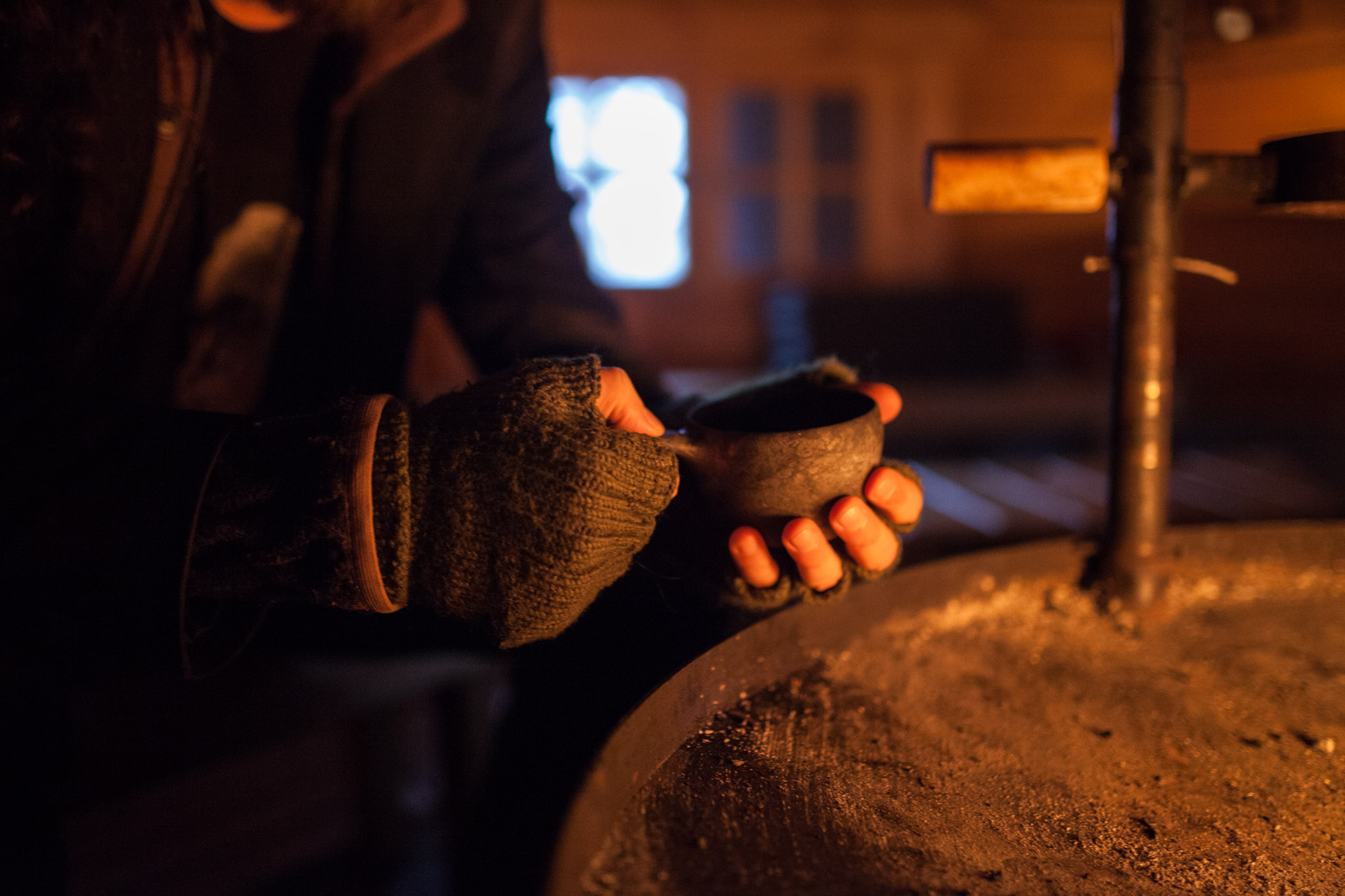 Nature roars
When in nature, Tuomas hears music. During his daily forest walks, nature can inspire a part of a melody, the subject of a song, a phrase or some other idea. It won't leave him alone.
'There comes this need to get it out. The need to make it something concrete. And that need is like an unimaginable roar in the head', Tuomas explains.
There is something intriguingly recognisable about the Finnish melody, chord structure and all-encompassing melancholy. Tuomas also describes Nightwish's music as organic and thinks that he would be making a completely different kind of music if he had grown up in a big city.
'There's no denying that it's a huge part of Nightwish's identity, the fact that all band members are originally boys and girls from the countryside. It brings with it a certain amount of healthy naivité, innocence and good-natured childishness'.
Nature is also a perfect antithesis to the unrelenting torrent of the social media world.
'I even notice in myself that I always have a phone in my hand or am sitting at a computer. It's very difficult to stop and then when I do, I start to wonder if I'm being useful, why am I not doing anything, should I be achieving something in this performance-driven society?'
In the forest or on the lake shore, that feeling disappears.
'At first I might feel that I really should be doing something. Why am I just sitting still or walking? But then I realise that there is no need for anything else.'
Our common ancestor
Nightwish's Sacrament of Wilderness tells of how humans once tamed the wolf. The latest album, Endless forms most beautiful, is devoted entirely to nature and science, the miracles of life: evolution.
Tuomas reveals that making the record was a virtually spiritual experience for him.
'Evolution is self-evident, but when reading Dawkins, I understood the poetry that is within that self-evidence. And it was an overwhelming experience to understand that every living being on this planet is our cousin, that we all have a common ancestor. We have a direct line of almost 4 billion years into the past', Tuomas says.
'Just think, your dad, his father and his father, that line doesn't break for 4 billion years. The fact that we are descendants of survivors is quite an understatement.'
Tuomas points to the campfire.
'The birch tree, from which that firewood has been taken, shares the same ancestor as us. These are facts, and to me this is the most beautiful fact in the world. It could be a very important insight into the well-being of mankind, if we could understand that everything is connected, that man is not above everything, but part of it', Tuomas considers.
'We couldn't get all that across on one album, so we might have to continue.'
Acoustically on Ukko-Koli?
A couple of great travel fantasies of Tuomas's are yet to be realised. The biggest of them is Alaska.
'I have a strange fixation. Just the word, it has something mystical. And then one of my all-time favourite films, Into The Wild, fuelled that desire even more. I must get there one day, with a guide, so that I don't end up as bear food', ponders Tuomas.
For years he has also dreamed of spending a month in Lapland, away from people.
'And I won't leave for a month. There, I will be alone. I want to experience the isolation and that feeling of loneliness. And some of that survival spirit. One month's gear in a backpack and that's what I'll survive with. This is something I definitely want to do some time.'
Tuomas has drawn music from nature, and he wants to combine the two in a way that hasn't been done before.
'I think it would be a really tempting idea to play acoustically from the top of Koli or somewhere else in nature. It would require a lot of work, but could be a suitably challenging arrangement project.'
Rain and sleet, cold and harsh winds
At the end of the summer Tuomas plans to hike. Staring at the fire, eating and drinking – enjoying the basic things in life in his favourite landscape, Finnish Lapland. The man says he's never had a big urge to go anywhere else.
'When I go hiking, I don't like walking 3 km per day and then sleeping in wilderness huts. In my opinion you can and should stink of sweat. Experience the rain and sleet, the cold and harsh winds. With that you go through some kind of catharsis, inner cleansing', thinks Tuomas.
He likes to hike with friends – his traditional hiking friends are Tony Kakko and Timo Rautiainen, both well-known Finnish artists.
'We have a week booked in August, so we're going to revive our hiking guild. We will also have foreign friends on that trip, who have never been to Finland, but who want to hike, so we're going to take them along', says Tuomas.
'Just as it says in my favourite film, Into The Wild, happiness is only real when shared.'
https://finlandnaturally.com/wp-content/uploads/2017/06/holopainen-3-1030x686.jpg
686
1030
Antti Huttunen
https://finlandnaturally.com/wp-content/uploads/2016/08/finlandnaturally-logo.png
Antti Huttunen
2017-06-02 11:35:22
2017-10-27 08:36:57
Symphonic metal band Nightwish inspired by the backwoods
Finnish freediver Johanna Nordblad holds the world record for a 50-meter dive under ice. She discovered her love for the sport through cold-water treatment while recovering from a downhill biking accident that almost took her leg. British director and photographer Ian Derry captures her taking a plunge under the Arctic ice.
Johanna Under The Ice – NOWNESS from NOWNESS on Vimeo.
https://finlandnaturally.com/wp-content/uploads/2016/11/undertheice2-1.jpg
658
1600
Antti Huttunen
https://finlandnaturally.com/wp-content/uploads/2016/08/finlandnaturally-logo.png
Antti Huttunen
2016-11-13 14:20:37
2018-11-08 12:39:33
The Hidden World under The Ice
https://finlandnaturally.com/wp-content/uploads/2016/02/turkubynight-8.jpg
876
1500
Antti Huttunen
https://finlandnaturally.com/wp-content/uploads/2016/08/finlandnaturally-logo.png
Antti Huttunen
2016-02-04 19:28:25
2016-11-17 07:12:27
The Aurajoki River by Night
The tree is amazing! An old oak that stands in the middle of spruces.
https://finlandnaturally.com/wp-content/uploads/2016/01/paavolan-tammi-paakuva-1.jpg
633
1600
Antti Huttunen
https://finlandnaturally.com/wp-content/uploads/2016/08/finlandnaturally-logo.png
Antti Huttunen
2016-01-16 07:09:04
2016-11-18 17:00:08
The Magical Oak of Paavola
https://finlandnaturally.com/wp-content/uploads/2016/02/melo-1.jpg
1000
1500
Antti Huttunen
https://finlandnaturally.com/wp-content/uploads/2016/08/finlandnaturally-logo.png
Antti Huttunen
2016-01-04 19:27:11
2016-11-17 07:12:45
Kayaking the river Siuntio